Recently Xiaomi's sub-brand has launched the Redmi K30 both in 5G and 4G versions on 10 December in China. The Redmi K30 is the successor of the K20. Both the 5G and 4G version features a 6.67-inch IPS display with 120Hz refresh rate with a single pill-shaped cutout for the dual front camera. However, a recent hands on video reveals two separate punch-holes for the two cameras.
According to a Weibo Post, Redmi K30 doesn't have a single a pill-shaped cutout. Instead, the display has two separate punch holes, and the space between the two punch holes is masked by a black bar, which can be toggled from the settings.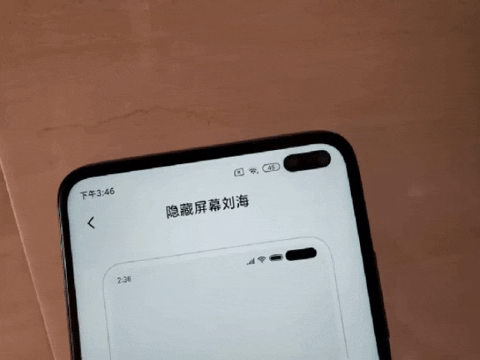 There are three options- you can opt pill-shaped design, separate two punch-holes, and no punch-holes, as you can see in the GIF above.
However, the black bar between the punch holes are not as deep as an AMOLED panel but have done a pretty good job within this price segment.
This feature in Redmi K30 definitely is exciting. You can actually choose a layout as per the mood to a single pill-shaped cutout display or change it into two separate holes or no punch at all.