Today, MSI revealed some new desktops along with the first mini PC to feature Intel's 10th-gen Comet Lake processors. The lineup includes the Cubi 5 10M, Cubi N 8GL, MSI Pro 16T, and finally, the Pro 24 X 10M. Let's discuss the specifications of these desktops one by one.
Cubi 5 10M
The Cubi 5 10M is the world's first 10th-generation Comet Lake energy efficient Mini-PC. Despite being small in size, this Mini-PC provides a powerful performance. Also, you can mount the Cubi 5 to the back of your monitor as it supports VESA-mount. This feature hides your pc behind the monitor making it invisible.
Under the hood, the Cubi 5 runs on the 10th-gen Intel Core i7 U-Processor coupled with 2x DDR4 2666MHz RAM and a 1x M.2 SSD (auto switch). Also, there is no dedicated GPU on this PC. It runs on Intel's UHD graphics. You can buy this mini-PC from Newegg, B&H, Adorama, and Provantage at the price of $549.
Cubi N 8GL
The Cubi N 8GL is a palm-sized PC with a 0.45-liter case that provides a desktop PC's performance. One of the notable features of this new PC is that it comes with a fanless design. According to MSI, this new fanless design helps in reducing malfunctions and increase the life of the PC.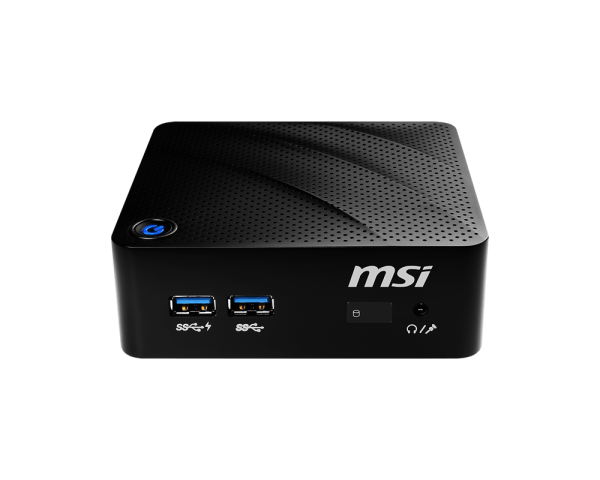 Under the hood, the Cubi N 8GL comes with Intel's Gemini Lake processors offering a Celeron N4000, N4100, or Pentium N5000. It also supports the standard VESA-mount feature. You can buy this from Amazon, Newegg, B&H, and Adorama at the price of $319.
MSI Pro 16T
The MSI Pro 16T is an all-in-one desktop that comes with Intel Celeron and Pentium processors, which are 15W U-series chips. It comes with a 15.6-inch Anti-Glare LCD Panel with a resolution of 1366 x 768 pixels and an LED-backlight. You can buy it from Amazon, Newegg, Best Buy, and Provantage at $499.
Pro 24 X 10M
The MSI Pro 24 X 10M gets the same Celeron U or Pentium Gold U remedy, just like the Pro 16T. But, there are options for Comet Lake U on the Pro 24 X10M. Also, this all-in-one PC comes with a 23.8-inch IPS Grade panel with an FHD resolution of 1920×1080 pixels. It is available for purchase on Adorama, Best Buy, Newegg, Provantage, and B&H starting from $499.