A couple of days ago, Samsung unveiled its first 5G integrated modem processor Exynos 980. Now, Huawei at IFA 2019 announced the industry's first SoC Kirin 990 family. Huawei removed the cover from its new flagship chipset with some twists following the launch of Mate 30 this September 19. The new chipset has an onboard radio which makes it suitable for networking standards that illuminated worldwide although Huawei's system doesn't support mmwave.
[wpinsertshortcodead id="bzyqm5d3e04029f48f"]
We have a bifurcated market as we proceed to the era of 5G. One that market where customers are not be prepared for 5G as they don't want to pay an additional $$ for a device to support 5G. Others who wish to ride the 5G wave, and are on the leading edge, and so may pay the premium. So Huawei provided a single solution for both markets by developing to variants of the Kirin 990 chipset.
These variants are officially known as Kirin 990 (for 4G) and the Kirin 990 5G. The 2 Kirin chipsets are almost the same, same core configuration, same camera support, same memory, same storage. However, there are differences in a few critical areas beyond the modem, such as NPU performance and core frequencies. It is worth pointing to how the Kirin 990 5G variant is a vision of the future.
[wpinsertshortcodead id="zxikm5d3e04a8f1451″]
Huawei Kirin 990 Family
Components
Kirin 990
5G
Kirin 990
(4G)
CPU
2x Cortex A76 based @2.86G
2x Cortex A76 based @2.36G
4x Cortex A55 based @1.95G
2x Cortex A76 based @2.86G
2x Cortex A76 based @2.09G
4x Cortex A55 based @1.86G
GPU
G76MP16
@700M
G76MP16
@700M
NPU
2 + 1
Da Vinci
1 + 1
Da Vinci
Modem
Balong 5G
4G
DRAM
LPDDR4-4266

+ LLC
LPDDR4-4266

+ LLC
Die Size
>100 mm2
~90 mm2
Transistors
10.3b
~8.0b
The Kirin 990 5G is a 7nm octa-core chipset that has 10.3 billion transistors. It utilizes two big, two middle and four small cores to enhance multitasking, with clock speeds of 2.86 GHz, 2.36 GHz, and 1.95 GHz respectively. The Kirin 990 5G likewise bundles a 16-core Mali G76 graphics processor which must use a lot of power for mobile video gaming, in addition to smart cache integrated into lower bandwidth by 15 percent approximately.
However, Huawei drew the attention to 5G and AI. At an event briefing in Berlin, the company said that the 5G chipset could achieve up to 2.3Gbps maximum download and 1.25Gbps maximum upload speeds. In comparison with the Snapdragon X55 modem can hit up to 7Gbps download speed. It because Qualcomm's chip supports the faster mmwave technology whereas as mentioned earlier, Huawei doesn't. Moreover, Qualcomm yet to unveil its CPU integrated 5G.
[wpinsertshortcodead id="bzyqm5d3e04029f48f"]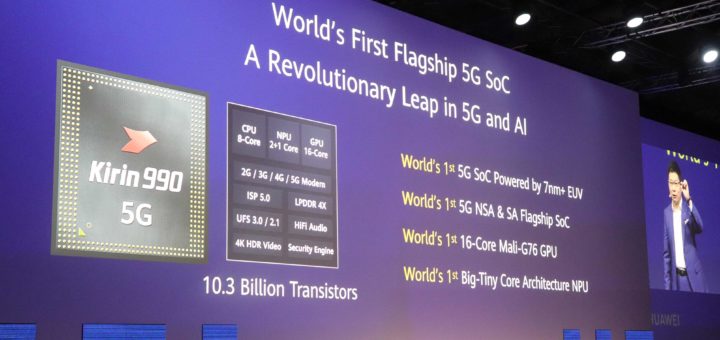 Given that AI is all the craze, Huawei likewise mentioned the Kirin 990 5G's neural processing unit (NPU) that can be utilized for jobs like face and voice recognition. The new SoC features a big dual-core NPU and a small core for low power applications. The CPU has a 5th-gen image signal processor which is a DSLR level noise reduction technology which is very first on a smartphone.
The Kirin 990 5G will initially include in the upcoming Mate 30-series smartphone and will consequently be released on forthcoming Honor flagships phones.
For the latest tech news, and updates about technology follow us on Facebook, Twitter and Pinterest.
[wpinsertshortcodead id="zxikm5d3e04a8f1451″]