The Consumer Electronics Show 2020 is on next week, and we already have several announcements ahead of that. Apart from several announcements, Dimenco has introduced the world's interactive first 8K 3D display for the creator market, ahead of CES 2020.
Dimenco is a one-year-old company to introduce the Simulated Reality concept technology. Recently, the company launched its Simulated Reality Development kit, which is the world's first interactive 8K 3D display.
The display above is a 32-inches 8K Simulated Reality Devkit spatial desktop machine. This device, combined with a sensor array to generate a 3D parallax effect.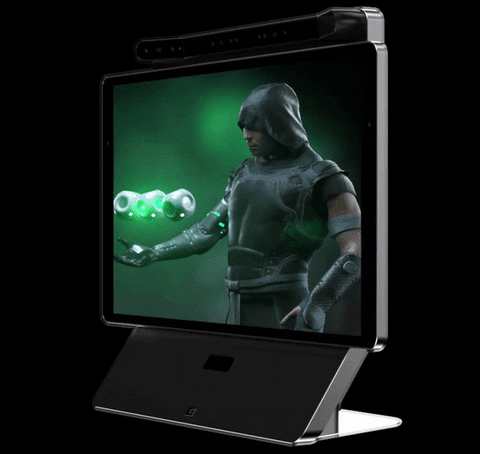 Simulated Reality Development kit
Dimenco clear view lenticular lens – 32" 8K 3D panel
Nvidia Geforce RTX 2080 Ti
Intel i7 8700 (6-cores @ 3.2-4.2 Ghz)
2x Eye tracking sensor
Hand tracking sensor
Spatial sound 12 speaker array + LFE
4-CH Microphone array
1Gb ethernet + WIFI
4 x 3.0 USB
The display includes a software Software Development Kit (SDK) that supports the leading game engines in the market today. Designers can flawlessly produce SR applications utilizing the Unreal engine and the specifically established Unity Editor. Moreover, it allows designers to port their existing 3D material quickly.
Dimenco is working together with Microsoft, who will attribute the new immersive spatial display at their CES Experience Center and has actually partnered with Ultraleap and accredited their Leapmotion sensing unit for ingrained SR hand tracking. This implies you can now touch and feel 3D designs without placing on a headset. The business has actually likewise included mid-air haptic feedback for making your 3D models feel more real.
Ultraleap CEO, Steve Cliffe statement about the partnership,
Adding the sense of touch to digital content makes it come to life. Experiences are much more immersive and engaging. We are therefore very excited to partner with Dimenco on the SR devkit to create the most natural interactive platform from which developers can create immersive and magical content.
MSI is also one of the launch partners for Dimenco and flaunts off the future first Simulated Reality laptop with interacted immersive 3D objects without any wearables and will be introduced in early 2020.
In an official press statement, CEO of Dimenco, Maarten Tobias said,
While the market for immersive content is growing around the world, wearable headsets, glasses and controllers needed for virtual and augmented reality don't provide the optimal and most natural experience which is hindering growth and adoption. We are dedicated to creating the interactive platform of the future – Our vision is Simulated Reality. Realism, social interactivity, immersion and AI can all be achieved through SR experiences, and we are enabling developers to start creating for SR now with our devkit.