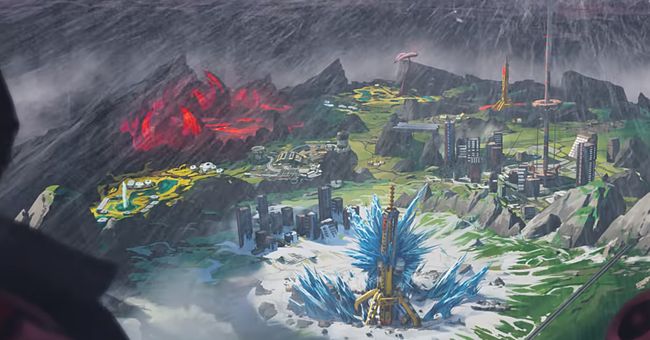 Respawn Entertainment already revealed few things for Apex Legends season 3 -Meltdown which is going to start from 1st October. It unveiled a new character or Legend Crypto a few days ago now it uploaded a trailer of Apex Legends Season 3 introducing a new map World's Edge.
[wpinsertshortcodead id="bzyqm5d3e04029f48f"]
Respawn described the World's Edge map as the place where "molten heat and chemical ice collide." The cinematic trailer which is a CG rather than gameplay doesn't reveal much about the map; however, we can catch a glimpse of various terrain like a snow mountain range and glaciers on an area whereas the other place is covered with molten lava and hard rocks along with urban areas with tall buildings. A piece of industrial equipment snapped by chemical ice is one of the terrains which everyone will notice at first in the map.
One of the standout gameplay element is a loot-filled train which streaks around the map. There are other elements shown in the trailer, such as a new drop vehicle and usable geysers.
In the new map World's Edge, a new playable Legend Crypto will be featured with Meltdown along with his trusty floating robot friend who has the ability of hacking. We don't have any details of his full capabilities; however, the trailer shows a stun effect on opponents emitting from the robot and Crypto with a melee weapon. Below you can check the animated cinematic of introducing Crypto.
Furthermore, with new season Respawn introduces a new weapon in Apex Legends. This time a weapon of Titanfall game Charge Rifle is going to feature in Meltdown.
As mentioned earlier, Apex Legends Season 3 – Meltdown will be going to launch on 1st October for Xbox One, PlayStation 4 and PC via Origin.
[wpinsertshortcodead id="zxikm5d3e04a8f1451″]
Also check: Dragon Ball Z: Kakarot will be launching on 17 January 2020 announced by Bandai Namco